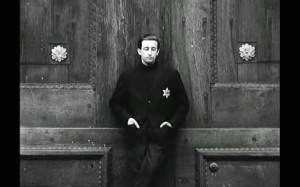 Director, screenwriter and actor Juraj Herz was born on September 4, 1934 in Kežmarok, Slovakia. In 1943, he and his parents were deported to the Ravensbrück concentration camp. Fortunately, the whole family survived, Juraj was liberated in Sachsenhausen.
After the war he studied photography in Bratislava, later puppetry Faculty of Academy of Performing Arts directing and acting (DAMU) in Prague – in the same year as Jan Švankmajer with whom he also worked at the theatre Semafor. His debut as an actor happened in the film Každá koruna dobrá / Every Little Helps (1961) directed by Zbyněk Brynych. Brynych offered him a place as an assistant and an actor in the film Transport z ráje / Transport from Paradise (1962).
In 1965 Herz directed his short film Sběrné surovosti / Scrap Brutalities (1965) which is regarded as the most adequate film adaptation of Hrabal`s prose. This film originally was made for the anthology of films Perličky na dně / Pearls of the Deep, often called a manifesto for the Czechoslovak New Wave. In the following years he shot films in different genres: political horror (Spalovač mrtvol / The Cremator, 1968), a film which was very successful with the audiences  of 1969, psychological drama (Petrolejové lampy / Oil lamps, 1971 with Iva Janžurová), the post-invasion year, horror film (Upír z Feratu / The Vampire from Ferat, 1981 with Dagmar Veškrnová / Havlová whom Herz discovered for the movies) or a stylized Gothic story (Morgiana, 1972). World War II is treated in several of his works. His last work,  Habermannův mlýn/Habermann's Fate (2010), approaches the topic of the expulsion of Sudeten Germans.
In 1987 Herz emigrated to West Germany. He shot modern fairytales (Žabí princ/The Frog Prince, 1991) and created documentary films and TV serials for various TV companies in Germany, Austria, France and USA. Since the early nineties he works both in the Czech Republic and abroad.  He has won numerous prestigious national and international awards, including The Chrystal Globe for his Outstanding Artistic Contribution to World Cinema at the festival in Karlovy Vary in 2009.